My Blog
Posts for tag: dentures
By Diamond Dental
September 10, 2018
What your dentist in Newtown, Connecticut wants you to know
You can restore your smile with dentures. Dr. Ratna Vedullapalli at Diamond Dental in Newtown, Connecticut wants to share some of the many benefits the right denture can give you.
Dentures can help you in many ways. Consider these important benefits:
Better chewing ability, which aids in enjoying and digesting your food, helping in your general good health
Cosmetic beauty, because dentures can give you back your full smile, restoring your self-esteem and confidence
A younger-looking face, because dentures restore more full facial contours, making your face appear younger and your jaw appear firmer
There are a few different types of dentures for you to consider, and Dr. Vedullapalli can help you make this important decision. You should think about:
Full dentures to replace an entire arch of teeth; types of full dentures include:
Immediate dentures, which are placed immediately after teeth are removed; an advantage of immediate dentures is that you never have to live without your smile. A conventional, more permanent denture is made after you have healed completely.
Conventional dentures, which are made after your tissue has healed completely; an advantage of choosing a conventional denture is that the denture is permanent and you only need to get used to wearing one denture.
Overdentures, which are snapped in place over dental implants or tooth roots; an advantage of overdentures is that they can be more stable and also help to conserve the bone in your jaw.
Partial dentures are a great choice if you've lost just a few teeth, but not an entire arch. You should think about:
Conventional partials, which are made after your tissue has healed; these are sturdy and meant to be a permanent addition to your smile.
Transitional partials, which are meant to be a temporary solution to tooth replacement if you are planning to have dental implants in the future
For more detailed information about dentures, please visit the Dentures section on the Diamond Dental website at https://www.diamonddentalct.com/dentures.html
It's important to talk with an expert if you are thinking about a denture. To learn more about how dentures can help you, call Dr. Ratna Vedullapalli at Diamond Dental in Newtown, Connecticut today!
By Diamond Dental
February 15, 2018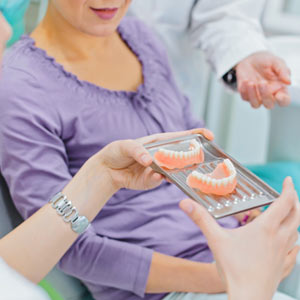 Twenty-six percent of American adults between 65 and 74 have lost all their teeth to dental disease. This isn't an appearance problem only—lack of teeth can also harm nutrition and physical well-being.
Fortunately, we have advanced restorative options that can effectively replace missing teeth. Of these, there's a tried and true one that's both affordable and effective: removable dentures.
Dentures are simple in design: a plastic or resin base, colored with a pinkish-red hue to resemble gums to which we attach prosthetic (false) teeth. But while the design concept isn't complicated, the process for creating and fitting them can be quite involved: they must conform to an individual patient's jaws and facial structure if they're going to appear natural.
If you're considering dentures, here's some of what it will take to achieve a successful outcome.
Positioning the teeth. The position of the prosthetic teeth on the base greatly determines how natural they'll appear and how well they'll function. So, we'll need to plan tooth placement beforehand based on your facial and jaw structures, as well as photos taken of you before tooth loss. We'll also consider how large the teeth should be, how far to place them forward or back from the lips, and whether to include "imperfections" from your old look that you see as part of your appearance.
Simulating the gums. While the teeth are your smile's stars, the gums are the supporting cast. It's important that we create a denture base that attractively frames the teeth by determining how much of the gums show when you smile, or adding color and even textures to better resemble gum tissue. We can also add ridges behind the upper teeth to support speech.
Balancing the bite. Upper and lower dentures don't operate in and of themselves—they must work cooperatively and efficiently with each other during eating or speaking. So while appearance matters, the bite's bite adjustment or balance might matter more. That's why we place a lot of attention into balancing and adjusting the bite after you receive your dentures to make sure you're comfortable.
This is a detailed process that we may need to revisit from time to time to make sure your dentures' fit remains tight and comfortable. Even so, modern advances in this traditional restoration continue to make them a solid choice for total tooth loss.
If you would like more information on denture restorations, please contact us or schedule an appointment for a consultation. You can also learn more about this topic by reading the Dear Doctor article "Removable Dentures."